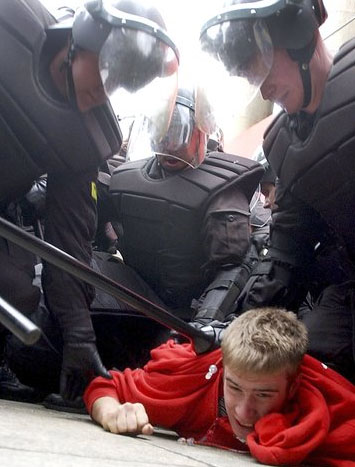 Heavily armed riot police arrested more than 65 gays and lesbians who refused to disband when they attempted to hold a gay pride march in the city of Poznan on Saturday.

Last week, Poznan's city administrator refused to issue a parade permit saying that the march would "be a serious danger to social order and property." Organizers of the parade said that the city government had bowed to pressure from the ruling Law and Justice Party and from the League of Polish Families and Poznan's Roman Catholic Archbishop.
LGBT civil rights group the Campaign Against Homophobia decided to go ahead with the march anyway.
As the LGBT march was coming to an end police took up positions blocking the street. On the sidewalks dozens of members of an ultra-right youth group hurled insults at the marchers.
When gay marchers refused a police order, yelled through a bullhorn, to disband the riot squad moved in. Several marchers sat down in the street in silent protest and were dragged off. Others say they attempted to disband but had nowhere to go because of the riot police at either end of the street marching toward them and a hostile crowd lining the sidewalk.
"They were dragging us around on the street," a demonstrator told the Warsaw Independent news agency.
"I was put in a police car, driven to a police station, and charged with taking part in an illegal gathering," the demonstrator said, adding he will be tried for a misdemeanor.
The Campaign against Homophobia issued statement accusing police of brutality.

(taken from http://www.365gay.com/Newscon05/11/112005poland.htm )